Related Psychological Disorders and Diagnoses
This information should not be used to diagnose or treat. It is not meant to take the place of consultation with a healthcare professional. If you have concerns, you should contact your healthcare provider for a screening.
Psychological Disorder or Clinical Diagnosis?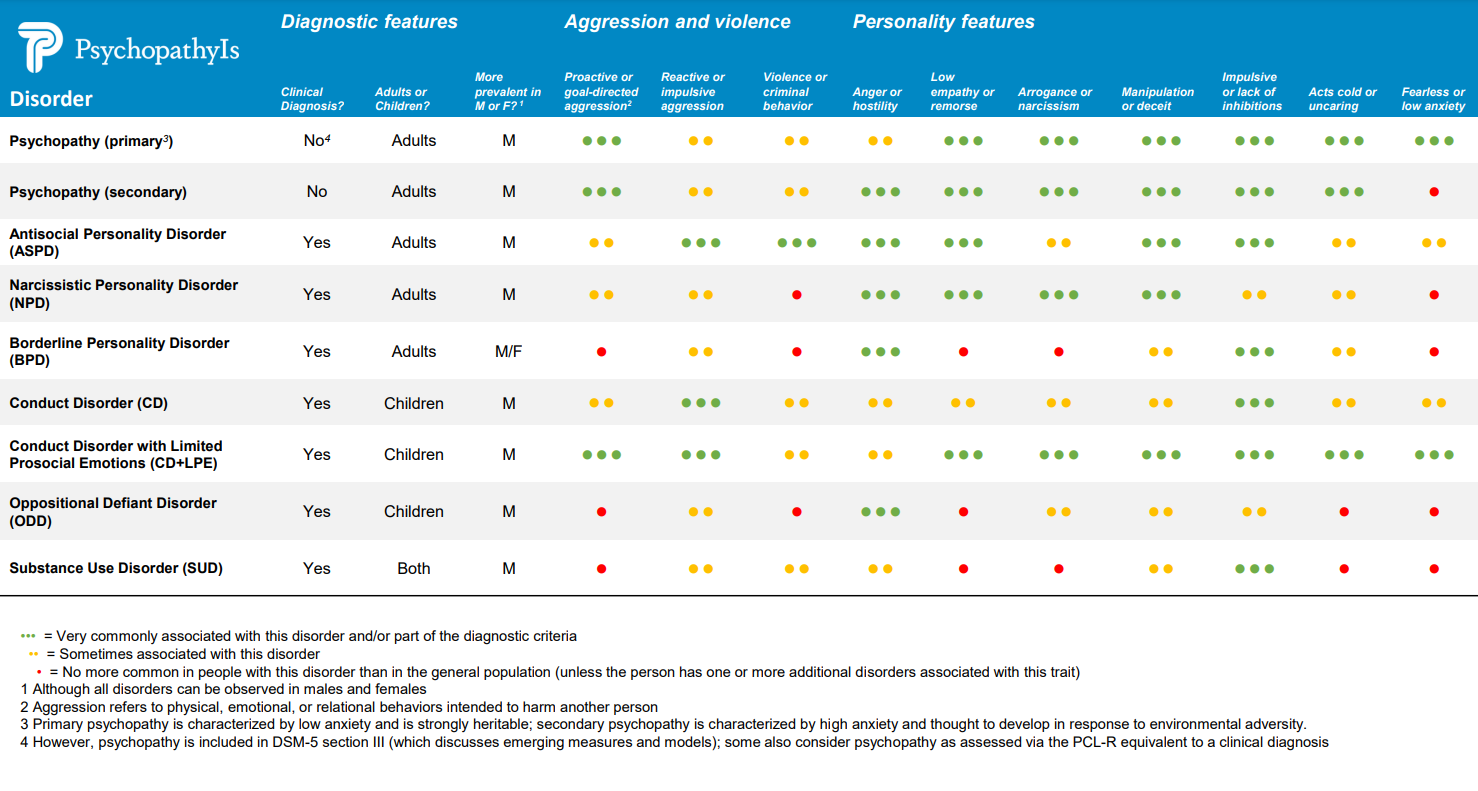 Comparison of "externalizing" clinical disorders (disorders characterized by antisocial behaviors such as rule-breaking, aggression, or criminality)
Other related terms and mental health conditions
Psychopathy, sociopathy, or narcissism?
Although they are not clinical diagnoses, psychopathy, sociopathy, and "malignant narcissism" are all terms that you may hear used to describe people who appear to lack empathy, guilt, and remorse and who engage in persistent antisocial behaviors. However, there are important differences among these terms.
Psychopathy is the scientific term used to refer to traits that include callousness, antisociality, and disinhibition. There are two forms of psychopathy: Primary and secondary psychopathy. Primary psychopathy is thought to be strongly related to genetic risk factors. People with primary psychopathy generally show stable levels of psychopathy over long periods of time. They have low levels of anxiety and fear, and often do not have histories of severe trauma, abuse, or neglect that can explain their personality and behavior.
Secondary psychopathy is thought to result mostly from environmental factors. People with secondary psychopathy may show more changes in their personality and behavior over time (getting either worse or better). They tend to have high levels of anxiety and fear, and often have histories of severe trauma, abuse, or neglect.
Sociopathy (or Sociopath)
Sociopathy is not a clinical or scientific term. Mental health professionals do not use this term, and it is not a diagnosis. In general, "sociopath" is a term used by the media and the public to describe anyone who engages in violent or antisocial behavior. The term is sometimes used (again, by the media and the public, not by mental health professionals) to refer to people whose antisocial behavior results from trauma or abuse. Thus, its meaning tends to be closer to secondary psychopathy than primary psychopathy.
"Malignant narcissism" is not a clinical or scientific term, it is not a diagnosis, and there is no scale for assessing it. It is sometimes used to describe people whose extreme narcissism leads them to engage in antisocial behavior. The traits that are often used to describe malignant narcissism overlap strongly with psychopathy, however, so it may be more scientifically and clinically accurate simply to use the term psychopathy.